FRIDAY I ATE
Breakfast: Quiche
Morning Snack: Bacon
Lunch: Well, kinda full from bacon, so skipped actual lunch.
Afternoon snack: Went to Burger Me in Truckee. Had a awesome burger stuffed with 5 cheese and jalapeno with fried onions on top. Also onion rings and sweet potato fries. Diet pepsi. Felt a little gnarly at the end, actually.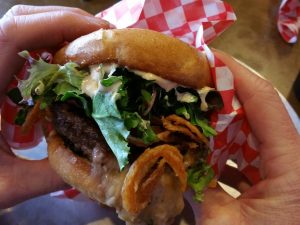 Dinner: Had a snow-cone appetizer (Eliza made with snow and Kool Aid). Later had some chili and cornbread and some leftover Mac&Cheese
Dessert: Leftover chocolate raspberry cake and a chocolate chip cookie