SATURDAY I ATE
Breakfast: Donuts from Rainbow donuts in Berkeley. This shop was pretty great: they had a good selection of interesting doughnuts… stuff like Oreo, Mint, M&M, alongside the classics. I have to say, though, that their custard filling was a little weak.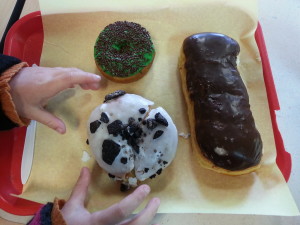 Morning Snack: Iced tea
Lunch: Turkey hummus pita wrap
Afternoon snack: Chocolate chip cookies and lemonade from the girls' roving lemonade stand. There were a ton of garage sales, and they raised $50 to send to victims of the Nepal earthquake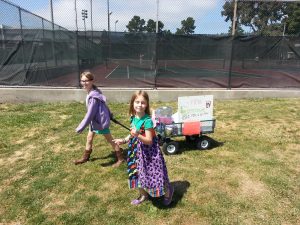 Dinner: 2 cheeseburger meal from McDonald's, just to bookend a day of healthy living. The girls had never eaten at Micky-D's, and they read about Happy Meals in a book… mom was sick, it seemed a perfect opportunity. Frankly, they were underwhelmed. Tessa said the chicken nuggets tasted kind of fishy. Eliza said the burgers were better at Barney's. Both were correct.


Dessert: Another chocolate chip cookie or two