DAY I ATE
Breakfast: Granola, cranberry juice
Morning Snack: A few small pastries (and a piece of pizza) at bike-to-work-day stations.
Lunch: Turkey cranberry sandwich from Cafe Gabriela in Oakland. It was pretty good, but small. I think the mayo was house-made; really tasty. I would order the sopressata sandwich next time, or the pulled pork. The trouble, though, is that they all are on a baguette, which means biting it will send the filling out the other side.
Afternoon snack: Cupcakes from Cupcake Love in Oakland. Brought in for someone's birthday. Had little bites of each and all very tasty.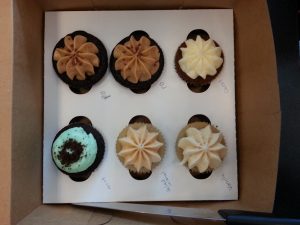 Dinner: Pork tenderloin, the backyard bbq recipe from Sarah Foster. Also some corn pancakes with a lime cilantro sour cream sauce. Amazing.
Dessert: Chocolate chip cookies with some ice cream.