TUESDAY I ATE
Breakfast: Granola, cranberry juice
Lunch: Leftove Zacchary's stuffed spinach and mushroom pizza
Afternoon snack: Mint M&M's, Coke zero
Dinner: Corned beef with cabbage. First time making my own corned beef, following the recipe on Serious Eats. I'd tried several times, but always waited until too late before I started looking for pink salt to cure it with. So last year, on March 18, I went and ordered a pound, then added it to my calendar for early March.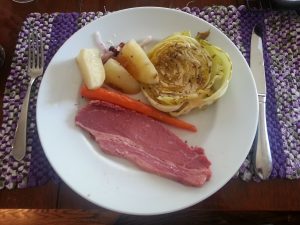 The meat was beautifully cooked (I went the sous vide route), though perhaps a bit salty. Tony recommended that I cure it an extra day or two in advance, and then soak it in fresh water to draw some of the salty flavor back out.
The veggies we went with roasting in the oven, which is really the only way I like to eat cabbage.
Dessert: Angel food cake with chocolate frosting and strawberries.