SUNDAY I ATE
Breakfast: Grapenuts with cranberry juice
Lunch: Turkey sandwich with avocado, ripe tomato, and some really spicy hummus
Afternoon snack: Ice cream. From Smitten Ice Cream.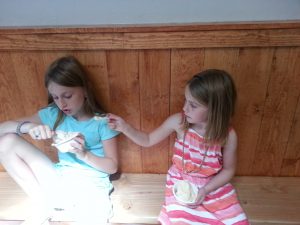 Wow. This place is crazy. They individually mix up your ice cream in a couple of minutes using special mixers and liquid nitrogen. It really gets a wonderful consistency… just past that super soft, just out of the churn stage, so you can actually scoop it up. The salted caramel was great, the brown sugar and cinnamon was so good I thought I was eating an apple pie (apparently, no apple. Turns out, I really think the ice cream is the critical flavor in apple pie). The mint chip, sadly, was just a touch disappointing. It's made with fresh mint, which was cool, and all, but it came across as just a bit too earthy. I've made my own ice cream with fresh mint and thought I'd just done something wrong, but apparently that's just the flavor. I like my mint ice cream almost like a tic-tac where it takes your breath away and the chocolate is the mellowing influence. 

I was all over the N2 ice cream machines, though. In a way, it's a sign of my own failure as a gadgeteer. I used to make a lot of liquid nitrogen ice cream in graduate school… whenever there was a big party, we'd always fire it up. And I was always disappointed. It was a great schtick, and it impressed the hell out of visitors, but the ice cream was always too fluffy from too much vigorous stirring, by turns soupy and icy, and never as good as what I'd make with rock salt and a churn. I just assumed that was what it was… but this Smitten person looked beyond the problems and saw something beautiful and made it so. I'm so impressed, I didn't even cringe at the price ($6 for a standard dish)… hot ticket: buy a pint for $11 and share with 4.
Dinner:  Sloppy Joes. On the brioche rolls. Damn good. I followed a recipe from The Pioneer Woman, and it was pretty good. Only thing was it was just a bit too sweet. I'd skip the optional tomato paste, or maybe 1 Tbls of brown sugar next time.