MONDAY I ATE
Breakfast: Grapenuts with cranberry juice
Lunch: Leftover pizza from Little Star
Afternoon snack: A couple of chocolate chip cookies from Bittersweet.
Dinner:  Pasta with arugula pesto from the garden.
Dessert: Egg creams (actually we quickly turned them into chocolate sodas). This is a revelation for us dessert-wise… when I was growing up, my brother's friend, Tom, worked at Baskin Robins. He was 9 or so years older, so I was maybe 6 and thought it was so cool that I knew the guy at Baskin Robins. If it wasn't busy, I got to try all sorts of flavors and one day he made something special for me — an Ice Cream Soda. This was just chocolate sauce, seltzer water, and a scoop of ice cream. It kind of reminded me of that scene in Charlie and the Chocolate Factory where Willy Wonka hands Charlie the mug of chocolate to drink ("hasn't there been anything to eat in your house lately") and as the "chocolate ran down his throat… his whole body… began to tingle with pleasure, and a feeling of intense happiness spread over him." Seriously, I love chocolate sodas that much. I used to order them all the time, which gave many an ice-cream parlor employee a conniption fit. I eventually learned to just tell them how to make them. But I've kind of stopped ordering that kind of stuff, and hadn't had one in a while. Then Suzanne was reading Seriously Bittersweet (by Alice Medrich) and she had a great description of her love of egg creams. Now I'd never had an egg cream and always assumed I wouldn't like them because I don't like eggs, but it turns out they don't have eggs in them… you know how it goes. Turns out I love them. But I like them better with a scoop of ice cream and now we're right back to my beloved ice cream soda.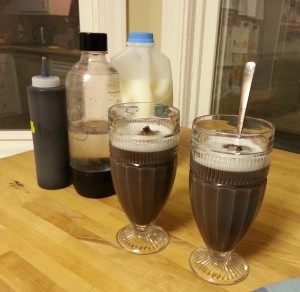 Basically, pour some milk in a glass, and some soda water (hello Sodastream!) and add chocolate sauce.
To make it better, Alice offers a chocolate sauce recipe. I always kind of thought I should just bottle up the first step of making hot chocolate, and it turns out, I should have. This stuff is fantastic.