SATURDAY I ATE
Location Albany to Ashland, OR
Breakfast: Raisin bran, cranberry juice
Lunch: Hot dog from Costco… start of our trip to WA
Afternoon snack: Buster bar! For some reason, I've been thinking about these for a while. Growing up, my elementary school had minimum days from time to time, and the only fast food within walking distance was Dairy Queen… so basically 100 kids would descend on the place. I don't remember when we were allowed to walk there on our own and just get picked up in the back parking lot. I always had a Buster Bar, though I was probably the only one who liked them. For the uninitiated, I can describe them better by how it seems like they are made. Imagine a small paper cup, dump in some roasted, salted peanuts, mix in some hot fudge. Let it chill, then fill the cup about 2/3 of the way with vanilla ice cream (well, ice milk). Add another layer of fudge and peanuts, shove in a popsicle stick, chill, remove the paper cup and dip in a chocolate shell.

I haven't had one in a long time, but every now and then in college I might stop at a Dairy Queen and pick one up. I was explaining them to the girls, and then around 3:00 today, decided Redding had to have a Dairy Queen. They've renamed it DQ, and they don't have Buster Bars on the menu, but they have them if you ask.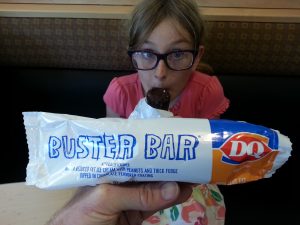 Dinner: Went to Standing Stone Brewery in Ashland, OR. Had a great bacon bleu cheese burger. Fries were mediocre (steak style, which leaves a mushy center). Beer was good. Ceasar salad was good. Split both with Suzanne.