THURSDAY I ATE
Breakfast: Granola, cranberry juice
Lunch: A beef and potato pie from Peasant Pies. Also a green salad. Honestly, I really wanted to like this place, but I left disappointed. The pie was too small, so I had to get the salad, but the salad cost so much, I should have gotten another pie. But that would have been more than I wanted to eat. Add to that, the pie was really dry, and hard to eat served in a wicker basket. But still, the place is right near work, and I want to like it so much that I'll go back. Also, I should have gotten the soup instead of the salad, but it was a hot day. Then someone sat down next to me eating it and it smelled really good.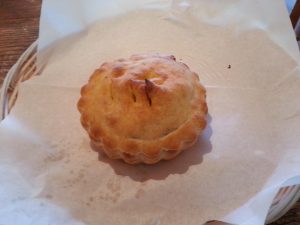 Afternoon snack: A peanut butter cookie. Also a Peet's mocha shake drink
Dinner: Apricot and arugula and siraccha pizza
Dessert: The last of the experimental baked alaska with chocolate ice cream. Surprisingly good after a couple of weeks in the freezer.