THURSDAY I ATE
Breakfast: Grapenuts, cranberry juice, 2 strawberries.
Lunch: Burrito, from the cheap place in the building. Very good, just need to remember hot sauce.
Afternoon snack:  M&M's, skittles, Coke Zero.

Dinner: Prosciutto and cheese omelettes. From Eliza's House of Omelettes. She actually was mastering the technique of working two pans at once. Also roasted potatoes.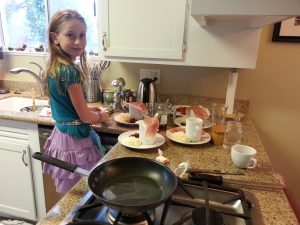 Dessert: The last of the nibby shortbread cookies.