FRIDAY I ATE
Breakfast: Grapenuts, cranberry juice, 2 strawberries. The patch is still holding strong, but for how much longer?
Morning snack: Cookies. Specifically some gooey chocolate awesome things Eve brought in. I would have preferred them for my afternoon snack, but had to move fast: they were gone by lunch.
Lunch: Went to Bissap Baobab, 381 15th St, Oakland, CA, for a co-worker's farewell party. I had a chicken wrap thing, which was good, but everything everyone else had looked better. I also had fried plantains,which I didn't need but were too good to stop eating. This place is worth a lunch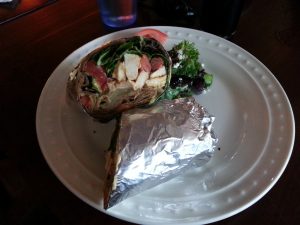 Afternoon snack:  There was a certain amount of leftover candy from leaving-co-worker's drawer. 2 coke zeros. 

Dinner:  Pizza. With fresh tomatoes.