SATURDAY I ATE
Breakfast: Pancakes. Eliza was at a sleepover, so Tessa got to chose.
Lunch: Pork chile verde burrito from Cactus
Dinner:  Quite possibly the best burger I've ever had in my life. I have no idea what made this particular burger so good… I didn't even have a hand in making it. I suspect, though, that it was just a confluence of good things. First of all, I think Ginny just buys really good meat from a real butcher. Lee Iacocca wrote in his biography about trying to get the secret to the world's best burger out of Henry Ford's personal chef. Eventually the guy showed him: he started by grinding up a USDA prime New York steak. I don't think this was that good, but nice meat helps. Then there was the tomato. And boy howdy, but was it a tomato. Homegrown, ripe, juicy, 1/2 an inch thick and as big as the burger. Come to think of it, the meat may have been superfluous in this meal. Anyway, it was a damn good cheeseburger.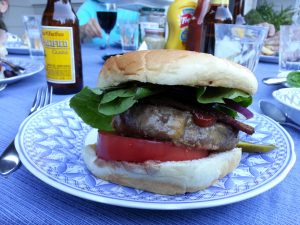 Dessert: Chocolate whiskey cake. The final version for flourarrangements.