SATURDAY I ATE
Breakfast: Hot tea
Morning Snack: Crackers with hummus
Lunch: Noodle bowl and a spicy tuna roll at Manpuku in Elmwood. Pretty much exactly as advertised on Yelp… reasonable quality sushi and pretty good prices. Big bowls of noodles. We'll be back.
Afternoon snack: Coke zero, leftover York peppermint patties from Easter.
Dinner: Burger, roasted potatoes, leftover asparagus. Green salad. I switched it up this time and stuffed the burger with Gruyere cheese and some chopped up salami. It was fabulous with some Grey Poupon.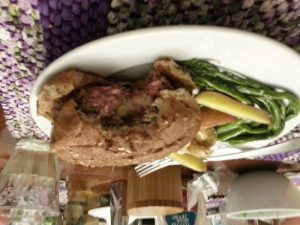 Dessert: Leftover cupcakes. Yes, plural. That last one looked so lonely and they were getting stale.