SUNDAY I ATE
Breakfast: Custard filled chocolate doughnut from All Star Donuts
Morning Snack: A rib from T-rex BBQ in Berkleley. I happened to walk into a landscape supply store at just the right time.
Lunch: Hot dog from Costco
Afternoon snack:  – safe to say, at this point in the day, I didn't really need one

Dinner:  Corn-tomato-basil risotto. This is one of my favorite dishes of all time, and when the tomatoes are fresh and homegrown, it's hard to pass up. The original recipe is from Joy of Cooking, but I've changed it over the years.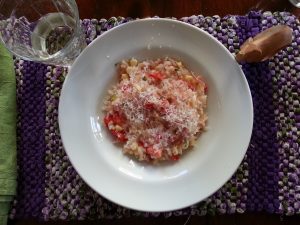 Dessert: Experimental Peppermint Patty Tart. Plus some York Peppermint Patties and Junior Mints while shooting photos.